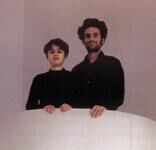 Alexa Kreissl (Born 1973) is a German bookauthor, artist and musician. For Dingo Pictures she made backgrounds for some of the movies.
History
In 2001/2002 she lived in Tokio, Japan do to a stipendium by Hessische Kultur Stiftung[1] She was part of the "Am I a Tourist 2030, Einheimische Touristen" project by the City Berlin, Germany.[2]
Artwork
For Dingo Pictures
Other Art
Art Exhibition
1995 "frohe Werke" at Philip Augustin in Frankfurt am Main
1995:" à cinq, pour la première fois, dans la Salle de Bains",la Salle de Bains, Paris
1996 "Ideale Ateliersituation # 1-3",
1996 "Weihnachtsmarkt",
1996 "une semaine aux Beaux-Arts chez Christian Boltanski", Paris
1997 "Kirmes" at Galerie gauche des Beaux-Arts de
Paris
1997 "L'utopie" Espace d'Art Contemporain de
Rueil-Malmaison Diplôme Nationale d' Arts Plastiques "ideale Umzugssituation #1"
1998 "from here", high street projekt gallery,
Christchurch, Newzeeland
1998 "Terminal", Musashino Art
University, Tokio
1998 "stolen secrets 2" c/o, Offenbach am Main
1999 "Kommunikation in der Kunst", Heidelberger
Kunstverein
1999 "Peter-Mertes-Stipendium" Bonner Kunstverein
1999 "Videonale Intermezzo" Kunstmuseum Bonn
Förderkoje Art Cologne
1999, Galerie Thomas Rehbein, Köln
Gruppenausstellung:"nabelSchau" Kunsthalle Dresden
2000 Einzelausstellung in der Galerie Thomas Rehbein, Köln
Realisierung des prämierten Wettbewerbentwurfs im Heidelberger Bahnhof, ausgeschrieben von der Heidelberger Druckmaschinen AG
References
Community content is available under
CC-BY-SA
unless otherwise noted.