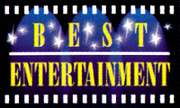 Best Entertainment AG is one of a few German DVD distributors best known for releasing Dingo Pictures movies. It was founded on 11 December 2000 in Offenbach, Germany. On 7th May 2019 they moved to Am Flughafen 4A in Darmstadt. Since that day, Thomas Webert is the CEO of the company. Also 3 other managers and 1 partner are included in this company.
List of Dingo Pictures films released
Trivia
All of the company's DVDs (at least the Dingo Pictures and Digital World releases) included a "Musikvideo" as one of the bonus features, which gives you a song from Digital World's Der Froschkönig.
Weblinks
Community content is available under
CC-BY-SA
unless otherwise noted.