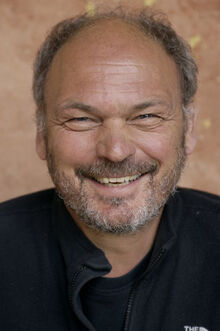 Georg Feils (*1953) is a German children's musician and one of the voice actors for many Dingo Pictures movies.
Since 1985 he has been producing music for children.[1] [2] He claims that he has written around 260 songs.[3] In 2016 he worked together with popular children music artist Rolf Zuckowski. He also worked with Joscha Sauer - the man behind the popular Nichtlustig cartoons.[4]
According to Feils, he was friends with Roswitha Haas (referred to as Rosy Haas in a email) and worked for her occasionally without paying.[5]
He currently performs at a children's music group called Ferri.
Appearances
Discography
Eins, Zwei, Drei, Apfelbrei! (Zahlen-Singsang-Spiele)
2019: Der Killekitzelkäfer (Eine Hüpfmatratzenreise für kleine Brülltiger)
Dagobert Dünkelstein, der Detektiv
25.09.2013: Frechmax
15.07.2010 Ferris größte Hitz
References
Community content is available under
CC-BY-SA
unless otherwise noted.