The Sandman Will Keep You Awake - The Loop
Play Sound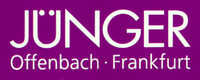 Jünger (also known as Jünger Verlag, Jünger Medien, Jünger Medien Verlag or Jünger Verlag GmbH) was a Book and Film distributor located in Offenbach, Germany from 1973 to 2003. Last CEO was Helmut Jünger. The Jünger Verlag GmbH acted as a sales and production company initially for the founded in 1950 Werner Jünger Dia, film and sound publishing and developed audiovisual education programs. In the years before the bankruptcy, publishing activities were supplemented by sales, distribution, production and services for other companies, but in some cases they were completed in the previous year. The Video Edition was called till 1992 Jünger Videoprogramm, in 1992 they hanged it to Jünger Video Edition.[1] In 2001 the License for distributing Dingo movies expired.
In 2002 they went bankrupt[2] and were sold to Burckhardthaus-Laetare GmbH. Today they operate under the name "Jünger Medien". Today Andre and Helmut Jünger are still the CEOs of the company.
To Jünger the Unipart Verlag, BuchVerlag für die Frau, Gabal (since 1995)[3], Burckhardhaus Lataere Verlag and Jünger Home Entertaiment belongs to.
Films distributed by Jünger Verlag
Pocahontas (1995) Catalog Number: 3052 (52 min) / 3056 (29 min)
Anastasia (1998) Catalog Number: 3606  •  Illustration: Jörg Zahradnicek
Gallery