This page is about the Grüezi Music label. If you were looking for the Brazilian digital magazine, see Kids Play.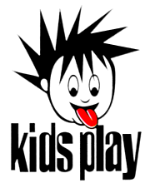 Kids Play was a Swiss home media company known to have distributed a selection of Dingo Pictures movies in said country.
Some of their titles were also released in Brazil with Portuguese dubs done in that dialect that were produced by Sigma, with the same brand name and title cards.
Their edition of Wabuu der freche Waschbär was released in France in 2005 by R.Y.M. Musique, with a new French dub that is considered to be more professionally done than another that was produced by Art Media.
VHS distributed by Kids Play (selection)
DVDs distributed by Kids Play (selection)
All their DVDs have a custom-made title card in three languages and credit sequence unless otherwise specified.
Trivia