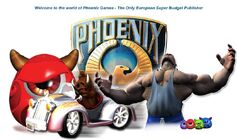 Phoenix Games is a partly-defunct Dutch video game publisher founded by Willie Horden, Paul Share (died 2011) and Steve Share, that released a large amount of low-effort titles for the Sony PlayStation, PlayStation 2, Nintendo DS, Microsoft Windows and the Nintendo Wii. They had contracts with over 50 developer studios around the globe.
They published games based on Dingo Pictures films on the aforementioned consoles (barring Windows). Their last known published game was Lion and the King 3 on Nintendo DS, released on February 12th, 2010.
List of movies published
Trivia
Das unglaubliche Fussballspiel der Tiere, a movie that previously was not dubbed into English, was dubbed by a possibly in-house studio, with the voice actors seeming to consist of one or two men, probably of Dutch descent.
Weblinks