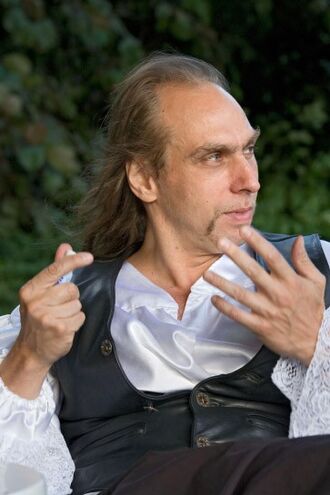 Thorsten Morawietz (born February 11, 1967) is a German actor who has done voice acting for Dingo Pictures, and the founder of Die Dramatische Bühne, where some members of the former voice cast, including Morawietz, are currently performing.
Biography
From 1974 to 1986, he attended the Grunelius School and the Freiherr von Stein High School in Frankfurt am Main, and the Kaiserin Friedrich School in Bad Homburg, and in 1987, he visted the drama school Genzmer in Wiesbaden, Besides acting as an actor in theatre, he has also performed radioplays, minor theater engagements at festivals in Ettlingen, and minor supporting roles in television productions, and from 1990 to 1993, he had worked as an acting teacher and elocutionist. He founded Die Dramatische Bühne in 1987, and is currently working as an actor, lyricist, director and management, creating lyrics, adaptations, dramatizations of novels, film scripts and plays.
the Excess Hall in Frankfurt am Main with about 120 performances per year, and has his own outdoor festival since 2001. At present, he has a repertoire of 19 productions, has done guest performances, and has commissioned productions for business theater as a copywriter, director, and manager, and was the artistic director and organizational director of the Frankfurt 2001 Easter Walk.
Filmography